Recommended Actions on Your Home Page
What are Recommended Actions?
Recommended Actions are generated based on the data we've gathered over the past 9 years to identify areas where agents and advisors tend to have pain points on Hearsay Social. Think of it as a to-do list that includes the most important actions an advisor needs to take to be as successful as possible with their social marketing efforts. This might include following up on a Social Signal, subscribing to a Campaign,or making a necessary profile edit from compliance. The Actions List is designed to save time and enable each advisor's success on Hearsay Social.
What kinds of actions will I be able to take?
New workspaces and workspaces that have not linked any social accounts will see the following onboarding cards on the Hearsay Social home page:
1. Social Onboarding - Connect a Social Account Card
i. Guides a new workspace owner to connect his/her first social media profile using the Action Card and pop-up tutorials.
ii. Clicking "Connect" takes the user to the settings page.
iii. Once a user has connected a social media account, he/she is guided back to the home page.
2. Social Onboarding - Publish First Post Card
i. Once the user returns to the home page, they will see a prompt to publish a post.
ii. Clicking "Publish" guides the user to the Content Library where they will be guided through the process to publish a social media post.
Workspaces that have completed onboarding or are already active will see the following action cards based on the state of their account:
3. Token Re-authorization Card
When a social network token prevents Hearsay Social from accessing a previously connected social media account, we alert the user and link to the Settings page where the user can reconnect the account. This card cannot be dismissed and will automatically disappear when the user has completed the action.
4. Social Profile Compliance Card
In the event the user has a profile that is not in an approved state and requires user action, we alert the user and link to the Profiles page where they can make updates. This card cannot be dismissed and will automatically disappear when the user has completed the action.
5. Weekly Social Publishing Card
Every Monday, Hearsay will display three posts that a user can schedule to publish with one click. These posts are comprised of pinned content and the most recent content available in the user's Content Library. Users can choose to schedule or dismiss one, two or all three posts.
New content refreshes daily (if more content is added to the Content Library) and expired content disappears immediately. As a result, if the user logs on any other day of the week, they may see different content with different scheduled dates. Hearsay pre-determines which social networks are selected based on what admins have recommended and what the user has connected. No edits can be made on this content in the card itself.
6. Subscribe to Campaigns Card
In addition to the Campaign Email, Hearsay will now promote new campaigns to advisors through the Recommended Actions list. This will make it easier for advisors to find and activate new campaigns.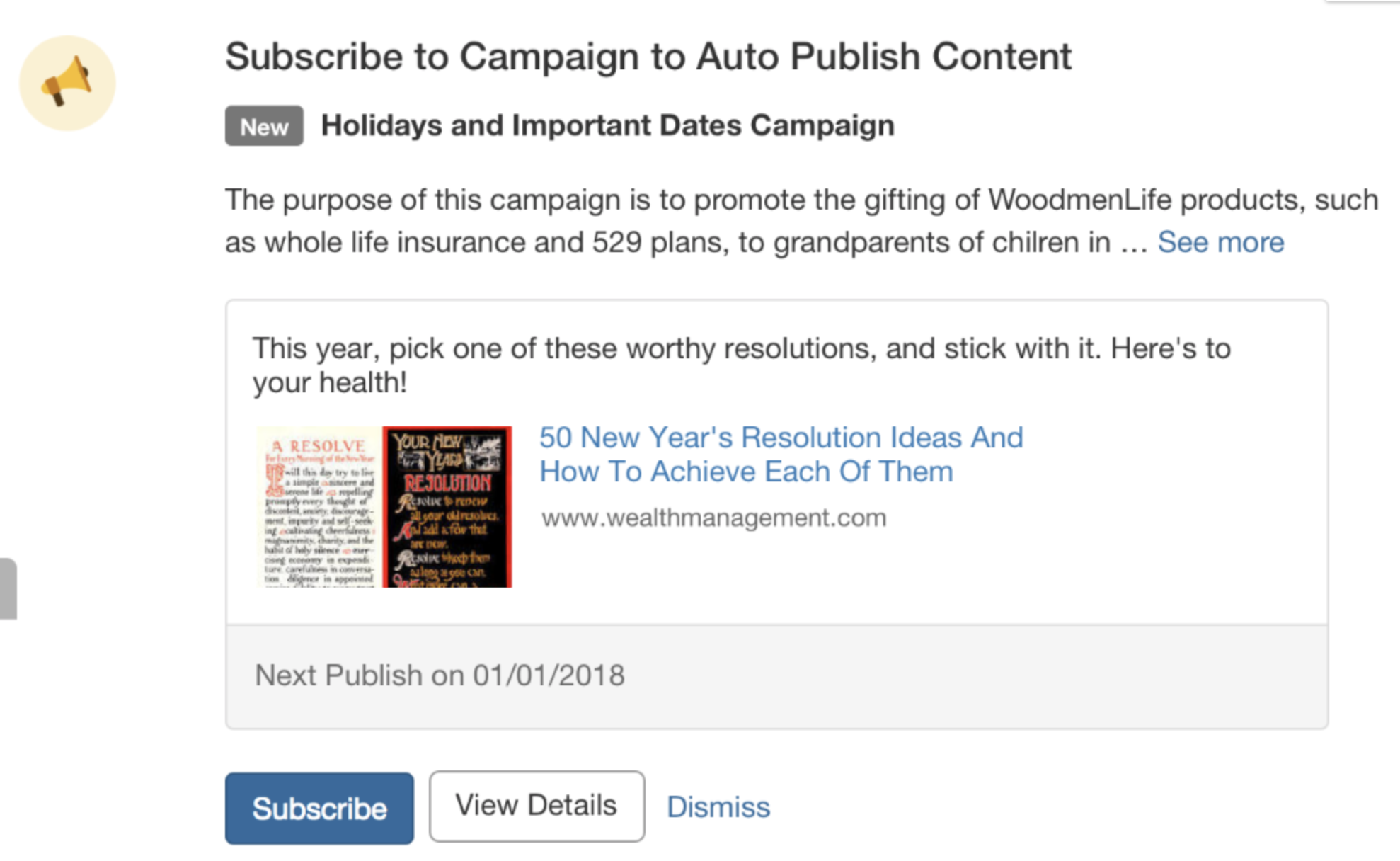 7. Post Original Content Card
This card prompts advisors to create and publish a piece of original content. If an advisor hasn't posted original content in the previous two weeks, this Action Card will prompt the advisor to do so. When an advisor gets the Action Card and clicks on the Create New button, the Action Card brings up the Publisher. The advisor follows the same steps as always to create a new post.

Subscribe to Campaign Cards and Post Original Content Card will appear below the Social Profile Compliance Card, Token Re-authorization Card, and Social Onboarding Card so as to not block any important cards on your Action List.
------------
If all action cards have been completed or dismissed, the user will see the current home page.
Will I be able to create custom cards?
This feature is not available at this time, but we're looking into this for future releases.
If an agent/advisor does not want to take action on cards, how can they navigate to the normal homepage?
An agent can dismiss action cards by clicking the X in the top right corner of a card, except with mandatory compliance cards (e.g. reconnecting your account with a lost token, updating your profile, etc.) Once all action cards have been completed or dismissed, the agent will be redirected to the current Hearsay Social home page.