You can create events for your Hearsay Site, enabling your audience to respond either by telephone, email, or a 3rd party link. Some things to note about events:
When you create an Event for your site, the time you pick will assume the time is in the time zone you set in your Hearsay User Settings. To view or edit this, go to your User Panel and select User Settings. You can change your time zone here.
When you view that Event on your Hearsay dashboard, it will also show the time in your selected time zone.
Once the Event is published on your site, visitors to your site will see the time displayed in the time zone of the visitor's browser.
NOTE: This article contains visual media. If you are viewing this article via our Web Widget, please click the

button at the top-right corner, to the right of this Help Center article's title, to view this content.
You can see which Events are on your Site by clicking on the Events tab.
Events are grouped by their status in the review/publication cycle:
Published: Events that have been successfully approved and published.
Pending Approval: Events that are awaiting approval from your organization.
Denied: Events that were denied approval by your organization.
To filter the list of events by their approval status by selecting the appropriate status at the top of the Events tab.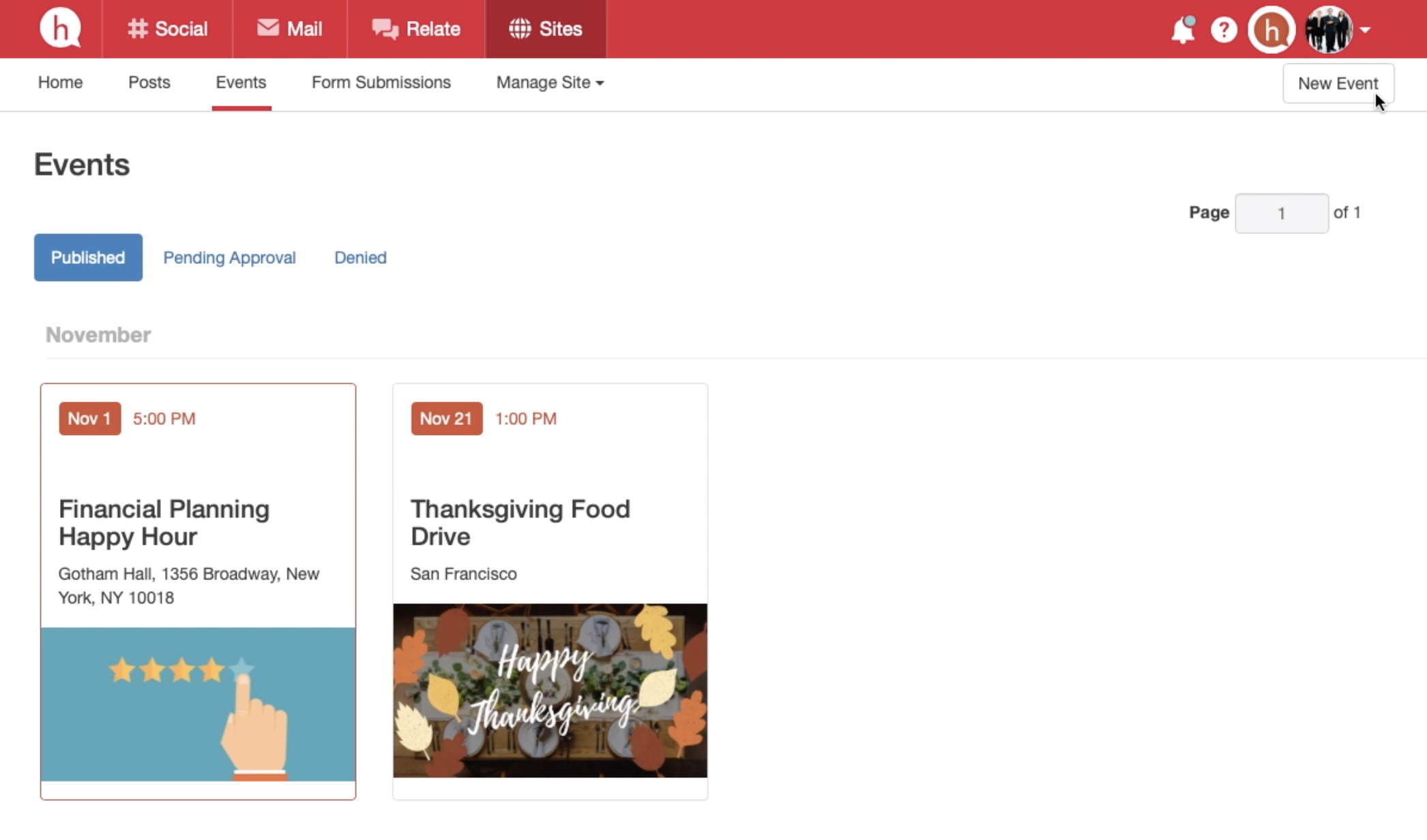 Create a New Event
Select the New Event button to create a new event. The following fields can be populated for a new event:
Title: the name of the event
Where: the location of the event (physical address or link to virtual event
Location Title: display name (optional)
Description: include a message or link for the event
Event Image: option to upload a photo related to the event
Start Time: start date and time of the event (defaults to your time zone in Hearsay but will display on your site in the local time zone of the viewer)
End Date Toggle: If turned on, select the end date and time
Accounts: select the site to which this event should be published
RSVP: select how guests should indicate if they are attending the event (email, registration link, phone number, or form submission)
Based on your organization's social media policy, once an event has been created the user will be presented with a request to approve the event or the ability to publish it.
Edit an Event
To edit an event, click the event to edit. The publisher will open and the event can be edited. Depending on your organization's policy, you may need to request approval to publish an event that has been edited.