The Hearsay Team is happy to announce that Instagram is now available on Hearsay Social! With this new integration, you can now reach over 1 billion Instagram users in the US and across the globe. With this release, you can connect an Instagram Business Profile, manage and supervise profiles and content, create and publish content to Instagram, and create campaigns for Instagram content.
Enable Instagram
To begin, you need to enable Instagram for use for your advisors/agents. Please contact your Customer Success Manager to do so.
Set Up Profile Fields
After enabling Instagram, you have to enable its profile fields.
1. Head to Settings > Organization Settings.
2. Make sure you're on the Network tab.
3. Scroll down to Social Profiles.
4. Click on Instagram Business Profile.
5. You'll have four fields: Bio, Name, Username, and Website. Enable whichever fields you'd like.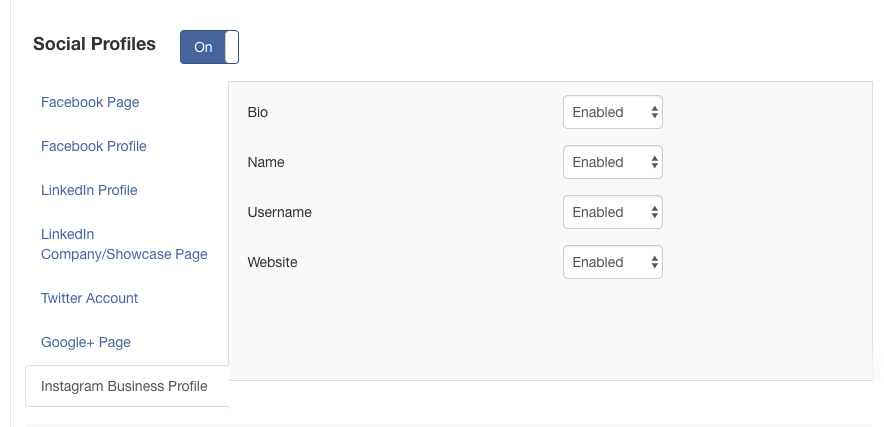 Connecting Instagram Professional Accounts to Hearsay
Instagram's API only allows for posting to Instagram Business Profiles. Before you can connect your Instagram to Hearsay, you must first convert it to a Professional Profile.
You can change an Instagram Personal Profile into a Business one in two ways: on the desktop via your Facebook page or on the mobile app via Instagram. We highly recommend converting through Facebook over Instagram because we've seen more success doing it that way.
Note: Hiding your Facebook Business page now deactivates your page. In the old Facebook experience, that didn't happen. However, this is part of the functionality for the new Facebook Business Page experience. Hiding will now disconnect your Instagram page from Hearsay so you have to keep your Facebook Business page in a "live" stage.
Converting Instagram Profiles to Professional Accounts

Please note: You don't have to get rid of your own personal account; you can have both. You can easily toggle between the two.

By far the most successful way to convert your Instagram profile is through your Facebook page. This will also automatically connect your Instagram Business Profile to your Facebook Page, circumventing the possibility of accidentally making a new Facebook Page.
To connect your Facebook Page and Instagram account:
1. Click Settings at the top of your Page.
2. Click Instagram in the left column.
3. Click Log in.
4. Enter your username and password and click Log In.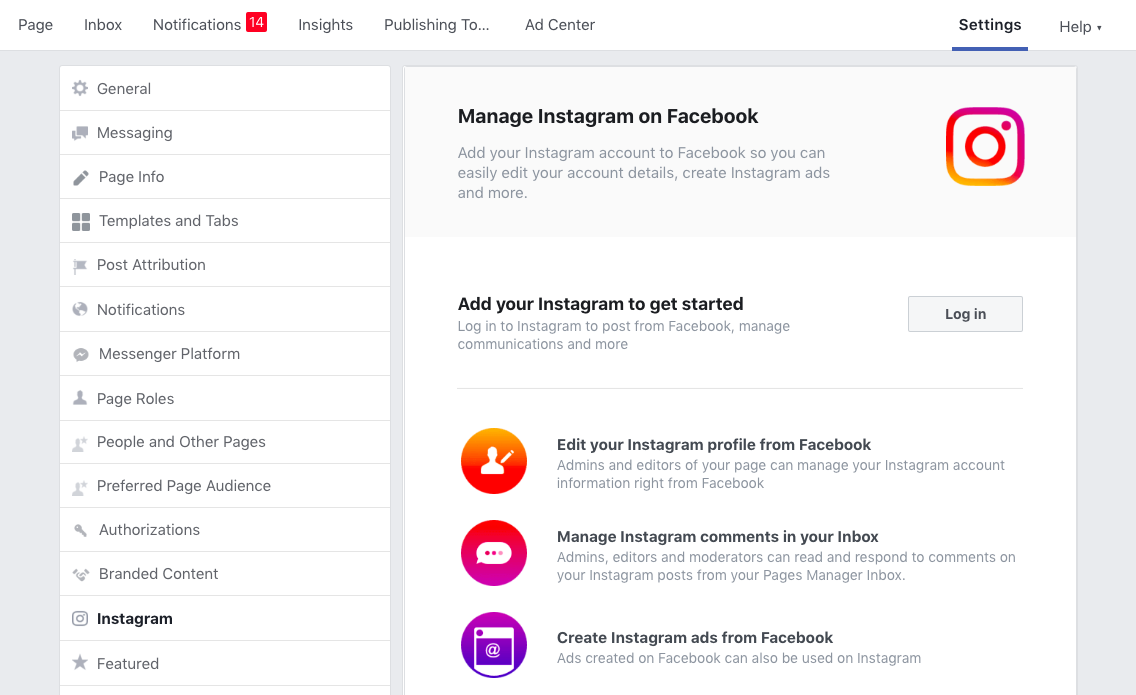 If you follow the instructions on your screen, Facebook will then take you to through the process of converting your profile. You will be required to input your email, phone number, and business address to complete the process.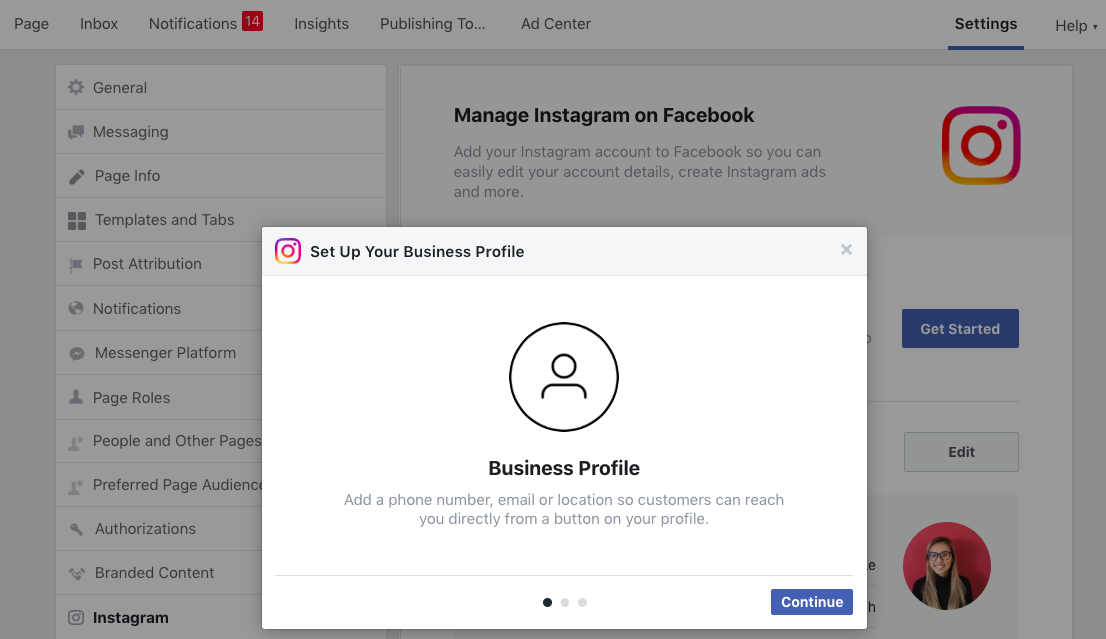 Converting Via Instagram App
To convert via Instagram, you can follow the steps here. Make sure you select your existing Facebook Page to connect, otherwise Instagram will create a new Facebook Page that will link. If you accidentally create a new page or connect it to the wrong page, you can change your linked account by following the steps here.
Once you've converted, then you can go add your Instagram Business Profile under Settings > Accounts > Connect Instagram and connecting via your Facebook Profile. The workflow is similar to connecting a Facebook Page, but on the next screen you'll be selecting your Instagram Business Profile instead of a Facebook Page.
Switching Across Instagram Profiles
You can quickly and easily manage multiple Instagram profiles, including your business profile, in the Instagram app.
To switch from one account to the other:
1. Hold down on your profile image on the bottom right corner until your other accounts pop up.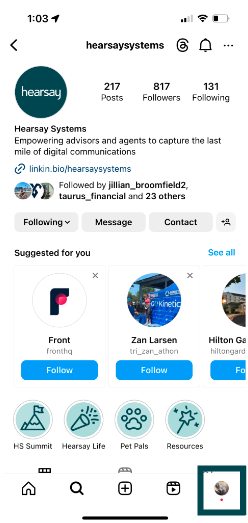 2. Select the account you want to switch to by tapping on it. You will then go to the Account page for that profile.

Creating Content for Instagram
As an admin, you can suggest posts to Instagram just like you would with other social networks. We recommend you create new content for Instagram and keep the posts separate from other social networks. Instagram is an image first social network and requires images in specific aspect ratios. To created suggested content:
1. Click on New Library Post and select Instagram from the selected network list.
2. Upload an Instagram compatible photo and optionally add a message. Feel free to use hashtags and mentions.
3. Add your regions, tags and other metadata information and then click on Suggest. That's it! Advisors will now be able to publish to Instagram from the Content Library.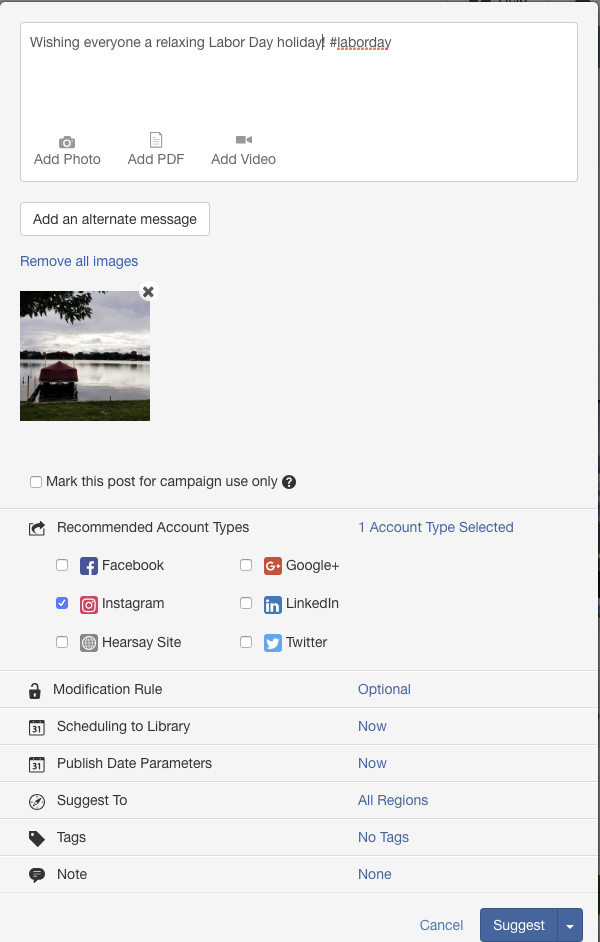 Because Instagram is an image-first platform with photo restrictions, Hearsay Social has been optimized for use with its API. This means creating image content for Instagram is a slightly different process than if you were creating content for Twitter, Facebook, and LinkedIn.
Please note these restrictions:
Text
• The amount of characters accepted in a single post is 2,200.
• If a user exceeds these limits, they will be presented with an error message which reads, "Your message is too long. Instagram messages can be up to 2200 characters long. Please shorten your message and retry."
Image
• Only single photos can be published to Instagram.
• Photos should be under 8MB size and between 150x150 and 1920x1080 pixels.
• Photo aspect ratio should be between 4:5 and 1.91:1 range. For best viewing quality, we recommend you choose between 3 options
1. Square - 1:1 ratio
2. Portrait - 4:5 ratio
3. Landscape - 1:91:1
Dynamic and Relative Campaigns
Admins can add Instagram posts to Dynamic and Relative Social Campaigns. We recommend admins to create Instagram specific campaigns to ensure non Instagram posts do not get posted to Instagram.
To create an Instagram-only post, uncheck every other social network when creating your content. Refer to the previous section to learn more.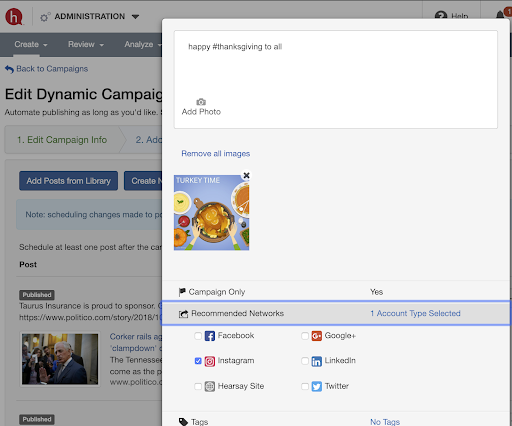 Adding an Instagram post to a Dynamic or Relative Campaign follows the same workflow as with any other social network.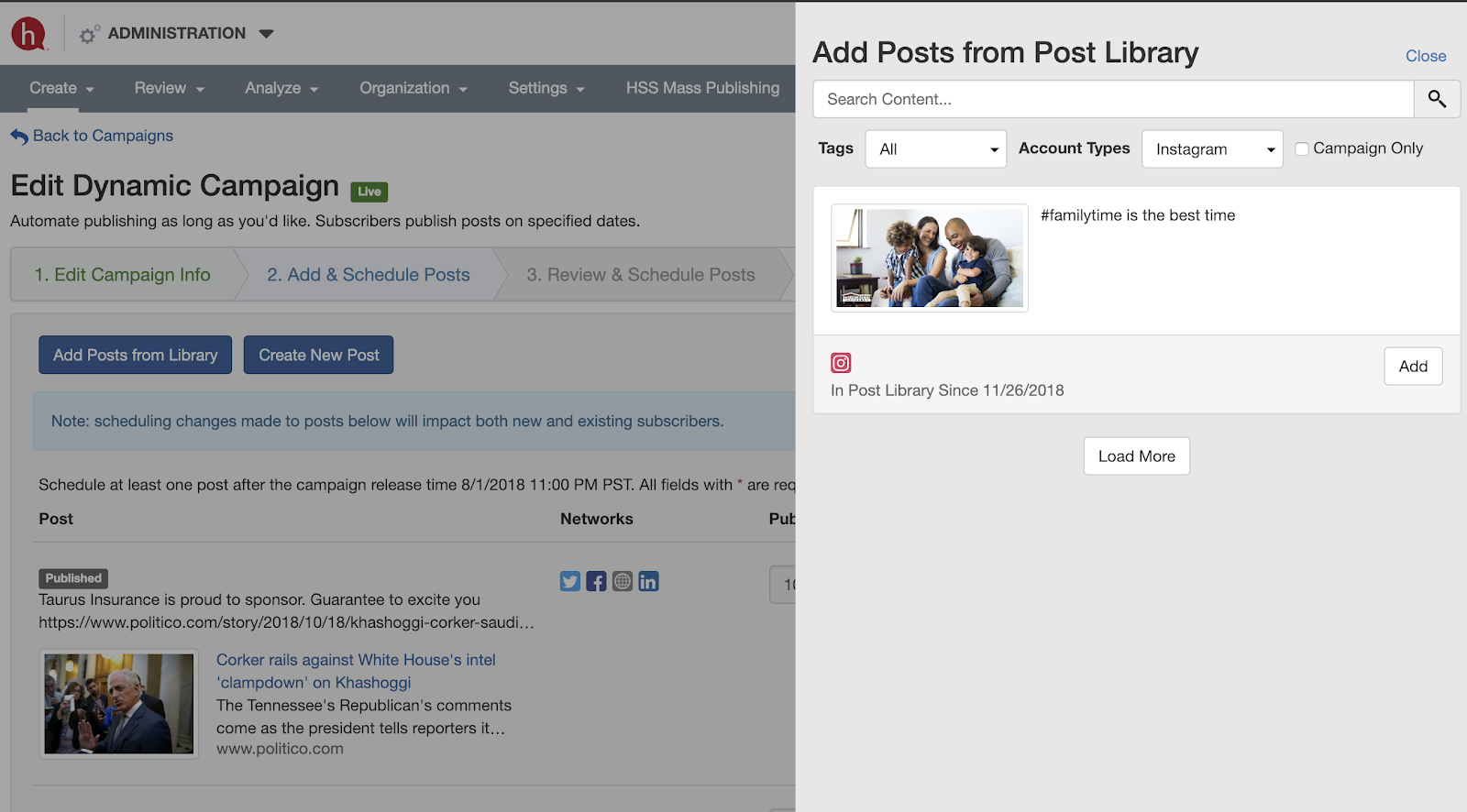 Supervision and Compliance
Compliance and supervision workflows for Instagram will be similar to the ones for the other networks.
Supervision will consist of the ability to:
• Approve requests on a single photo (post) to be uploaded to Instagram.
• Supervise requests for profile approvals and alerts on native profile changes.
• Alert, supervise, and archive end users' posts, and comments/replies on those posts, which are published on Instagram directly (native posts).
• View Instagram accounts and activity in Reports, and show Instagram activity in Dashboards.
Approving Single Instagram Post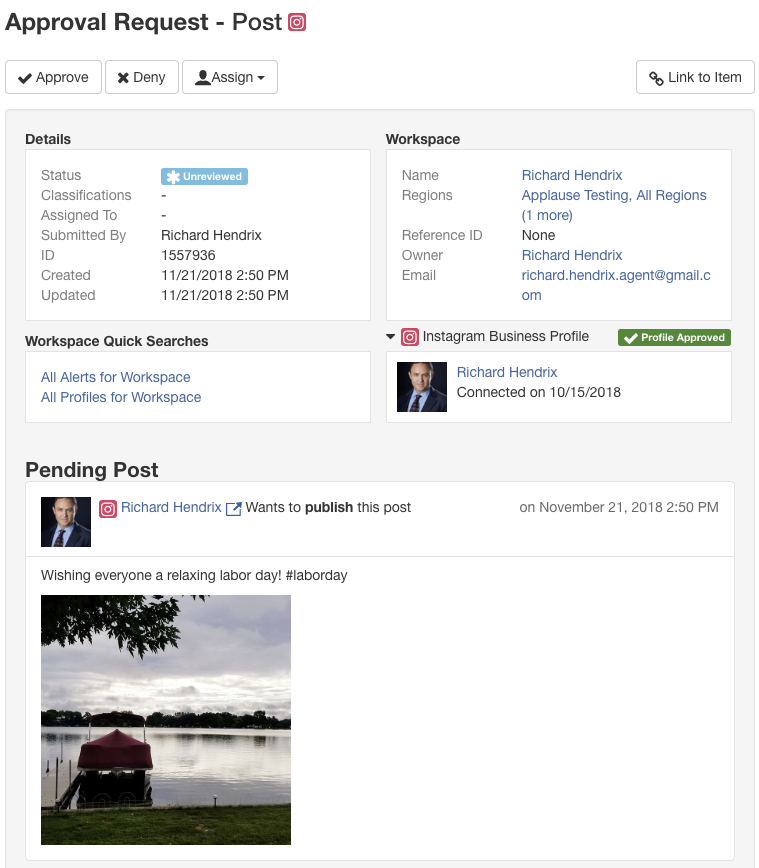 Profile Approval Requests & Native Profile Changes
Admins will be able to supervise requests for profile approvals and alerts on native profile changes.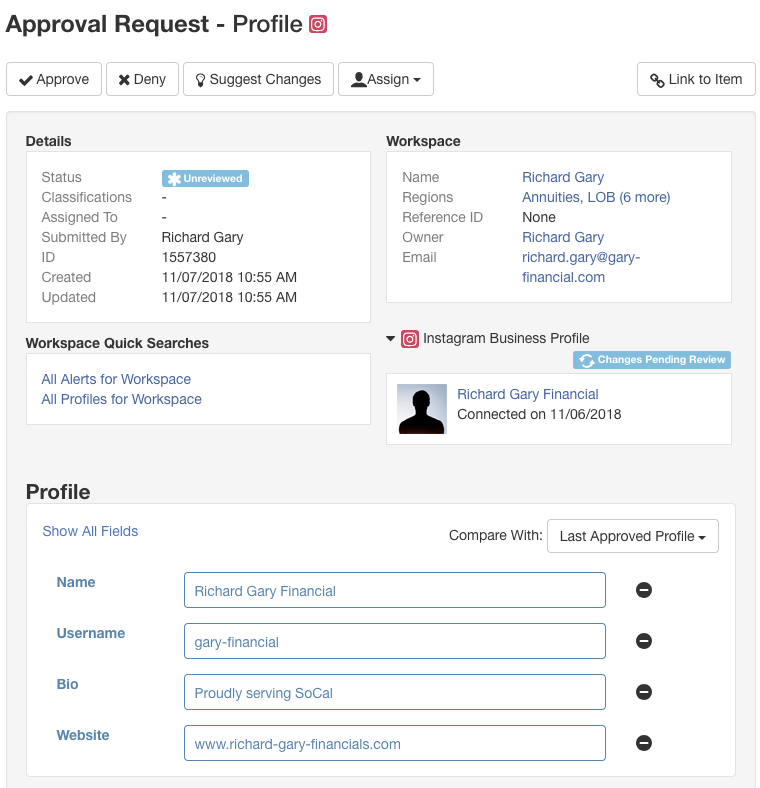 Alert on Native Posts, Comments and Replies
Admins will be able to supervise alerts on new native posts, comments and replies on owned native posts.
Note: Due to limitations with Instagram's API, Hearsay is not able to provide coverage on end users' activity on 3rd party posts.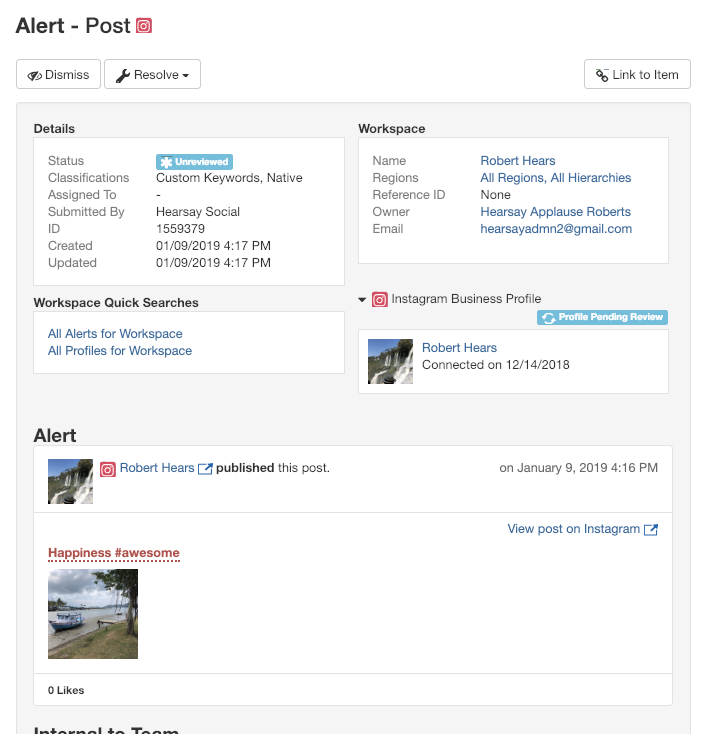 However due to limitations with the Instagram API, Hearsay will not be able auto upload profiles to and monitor profile pictures for Instagram.
To learn how to publish and schedule content for Instagram via desktop and the mobile app, please refer to the end user Getting Started on Instagram article.
FAQ
Can I connect and publish to personal Instagram profiles?
No. The APIs only support Instagram business profile

Can you have a private Instagram business profile?
No. Only personal accounts can be private.

Can you get data from 3rd party private personal profile (e.g. 3rd party tags HSS User)?
No, you cannot get posts or user information on private personal profiles.

I noticed that we cannot publish stories, videos and albums from Hearsay? Is that an API limitation or Hearsay's limitation?
It is an API limitation. Currently, API only supports uploading a single image. Allowed types are JPEG, PNG, BMP, and non-animated GIFs.

Can you proactively block agents/advisors from publishing stories?
No. We recommend that organizations update their social media policy to ensure their field is aware of what they can/can't publish.

Can we use Instagram filters to modify images?
No. This is not possible via API.

Can we tag users or location when publishing from Hearsay?
No. We cannot tag users in photo or location in Hearsay.