The Hearsay Relate Share Consent Link is what allows your customers to text you without you needing to send them an opt-in text message first.
You can do this by sending your customers the Consent Link. The link provided can be shared via email or on social media and allows your contacts to agree to opt-in to messages on their own.
To Get Your Unique Opt-In Link:
In Hearsay, click on Message or Message & Call on the left panel menu.
Find the Share Consent Link section to see the unique link for your Hearsay Relate account.

Once your contact clicks it, they will be prompted to enter their first name, last name, and phone number. They will then click Opt-In Now.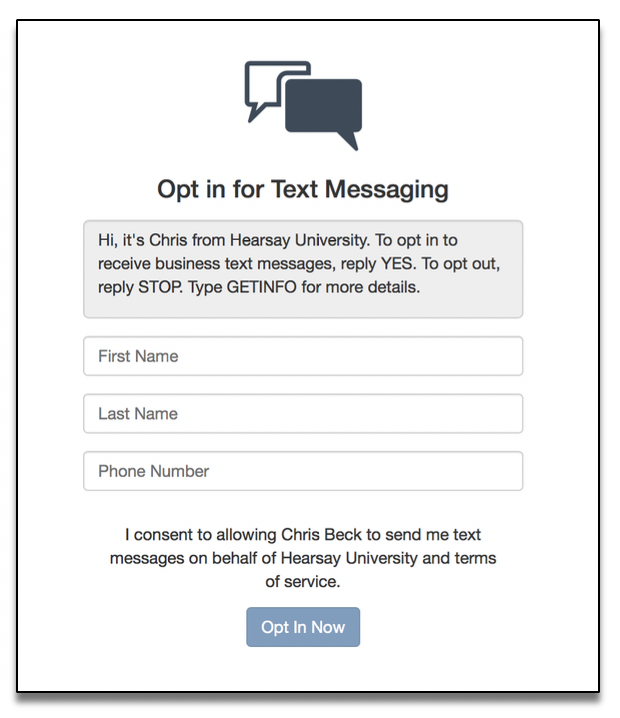 After the contact completes the form, your Hearsay Relate Conversations window will update with the following message:

Best Practices:
The Hearsay Relate Opt-In Link is an easy way to request and obtain client approval to communicate via text message. Here's how to use it:
Send your client an email to your customer and include the share-consent link within the message.
Feel free to use the email message below to ask for your client's approval to send text messages, but be sure to insert your unique Opt-In Link where indicated:
[Subject line] Can I send you texts?

Hi,
Many of my clients now find it more convenient to receive text messages from me rather than emails, phone calls or letters.
Because your privacy is of paramount importance to me, and I want to comply with all of my industry's best practices and standards, it is my policy not to send text messages to you until I receive your permission to do so.
Filling out this form will give permission for me—or one of my direct employees, acting on my behalf, with my knowledge and permission—to contact you via text message with information pertaining to your account.
To give me permission to send you text messages, please click the link below, and complete the brief form that will appear:
<ENTER YOUR UNIQUE OPT- IN LINK HERE>
Thank you for your assistance—and for the opportunity to serve you.
Sincerely,
<YOUR NAME>