The Inbound Call Handling feature provides a more defined path to a workspace for inbound calls. Rather than having an inbound call ring for all members of a workspace who are set up on Relate Mobile, the additional configuration options provide a clear path for call handling, so everyone knows and determines who and exactly where a call will be received.
Configuration options that workspaces can choose from:
All calls go to all office members (Default)
All calls go to a designated office member
All calls go to Workspace Owner
All calls go to office number
Only administrators can change an organization's Inbound Call Handling configuration. If you would like to change your Inbound Call Handling settings, please reach out to your organization's Hearsay administrator or contact us by emailing support@hearsaycorp.com.
How does this work?
The default option is All calls go to all office members. This setting directs all members of the workspace that have downloaded the Hearsay Relate app to have their phone ring. Once the first member answers the call, all other member's phones will stop ringing.
All calls go to a designated office member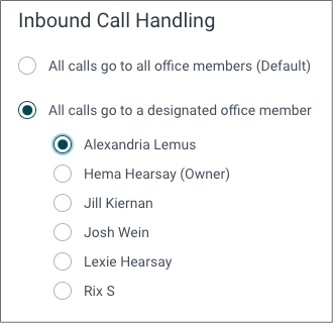 This option allows a workspace to indicate a specific workspace member to receive all inbound calls that are placed to the Relate phone number. If this option is selected, when a call comes in to a given Relate workspace, only that individual's phone will ring. No other phones of workspace members will ring.
The advantage of this setting is that a workspace can always ensure that a designated member of their team is teed up to receive calls from clients. Changing which workspace member receives calls is as simple as selecting their name from the list and now only their mobile phone will ring for inbound Relate calls.
All calls to to Workspace Owner
This option will direct all calls to the workspace owner.
All calls go to office number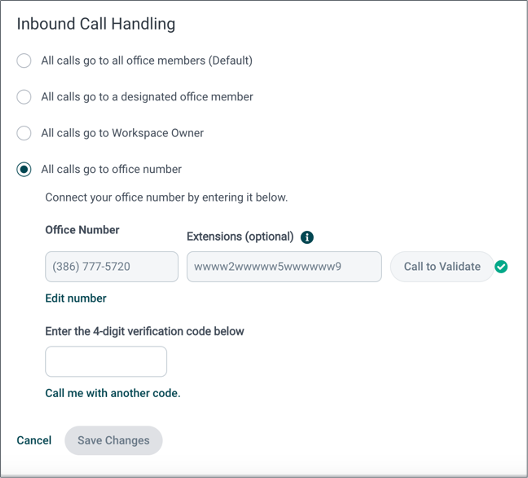 This option allows a workspace to forward Relate phone calls to an existing landline office number.
There is a validation process to ensure that the phone number entered is correct. Once a workspace member enters the phone number, they will receive a call with a code and will need to input it correctly to save the number.
There is an optional field for offices that have extensions (also known as an Interactive Voice Response system or IVRs). This field instructs our automated system on how to navigate the user's phone directory or extension system. Users can enter "w", instructing our system to wait for 0.5 seconds and then entering 0-9, #, or * to tell our system which tones of the dial pad to play in order to navigate the phone directory.
For example, the Insurance Office of Jane Smith has an extension system that has the following steps that need to be taken to get to the right extension:

Dial 1 for individuals within this office
Dial 24 for Jane Smith's extension
Jane Smith would need to call her extension and measure the time before each option is available. She does this and identifies that the first option can be selected after 3 seconds and the second option can be selected after 5 seconds. In the Extension field for this feature, Jane would need to enter the following: "wwwwww1wwwwwwwwww24"—ensuring our system can dial the correct extension automatically in order to deliver the one-time code so the user can verify their landline.
Once this option has been set up, all inbound calls to the Relate phone number will be directed to the landline number but the caller still needs to navigate the advisor's extension system. Workspace members' personal devices that are set up with Relate will not ring. The advantage of this setting is that calls will always be directed to the office where they can be answered by a team member or directed to the office voicemail.
FAQs:
Q: Is there an option to have unanswered Relate mobile calls then forward on to a landline number?
A: At this time there is only the option for inbound calls to go to either a mobile phone or forwarded to an office landline number. We are exploring more advanced redirection options.
Q: Can an office with an extension forward calls?
A: Yes, an extension can be reached using the optional field as part of the validation of the office number. A tooltip provides more context on how to fill out that field using the correct extension numbers, symbols, and interactive voice response system "waiting" indicator "w" to direct the validation call. When inbound calls come in from a client, they will need to navigate the system to the desired extension.
Q: Can my organization only have one of these options available?
A: Yes, we can configure it so that only one option is available if that is what you choose (for example, if you want to only have forwarding calls to an office number, we can have that configured as the only other option aside from the default setting). Work with your Hearsay Account Team to do this.
Q: What is the default setting for this feature?
A: The default setting is that all calls go to all office members (multi-ring).
Q: Is there a way to have a call ring a personal device before being forwarded to the office number?
A: Not at this time.
Q: Does a workspace need to have calling set up on their mobile devices to have calls forwarded to their office number?
A: No, having voice set up on your mobile device allows you to make outbound calls. You do not need to set up voice on your mobile device to receive inbound calls.
Q: Will these configuration panels show up for workspaces that do not have voice capabilities?
A: They will only show up for workspaces with inbound calling capabilities.