A campaign consists of multiple pieces of content that are grouped together and released separately at timed intervals as a fluid set of posts. They are often centered on a single theme and are released on a staggered basis.
There are two types of campaigns:
Dynamic: Content within these campaigns have pre-determined dates at which the content will publish, set by your organization's social media and compliance team. Admins can also add additional content to these campaigns. As long as you are subscribed to a dynamic campaign, all existing content, and content added to the campaign after you've subscribed, will still be scheduled on your behalf. Dynamic campaigns usually focus on date-specific content for specific topics.
Relative: Content within these campaigns have pre-determined dates, relative to once you've subscribed to the campaign (ex. Content is set to schedule 1, 2 and 3 days from when the user subscribed). Relative campaigns usually focus on evergreen content that can be published throughout the year.
Note: Campaigns are available for Hearsay Sites users, as long as the user has both Hearsay Social & Hearsay Sites. Hearsay campaigns are not available for Sites-only users; the user must have Hearsay Social & Hearsay Sites in order to access Hearsay campaigns since campaigns are accessed through the Hearsay Social tab.
Subscribing to Campaigns
1. Log in to Hearsay and click CampaignsTo access Campaigns. Here, you will be shown a list of available campaigns you may subscribe your Hearsay Site to.

2. To view the content within the campaign, click See All Posts on the bottom right. This will display the day and time at which the content will publish, and also allows the user to read content containing links before publishing. Click on Previous Posts to see previously published posts from the campaign.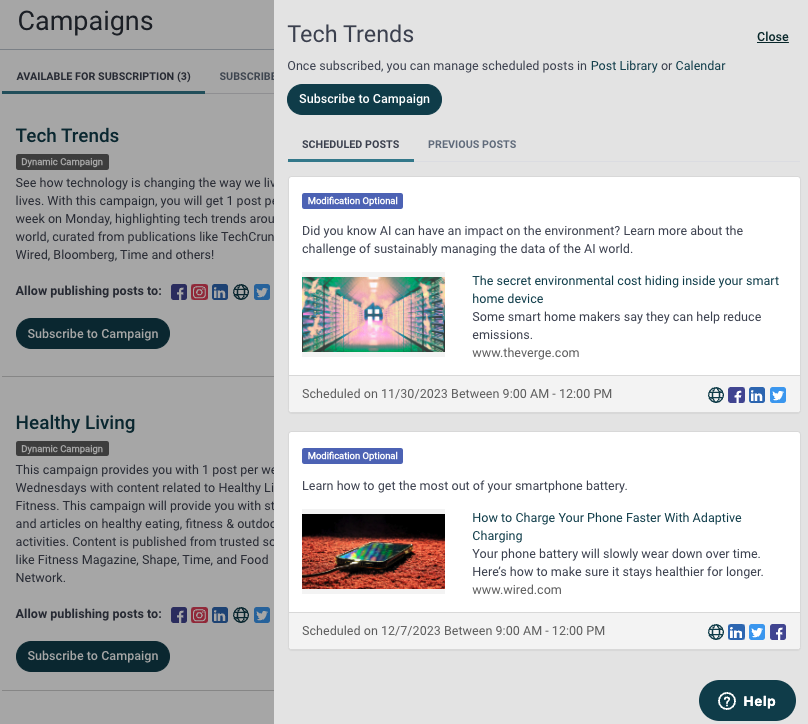 3. To edit which sites or social accounts will publish the campaign, click the social network icons next to where it states Allow Publishing Posts to in order to select/deselect the network. Then click Ok.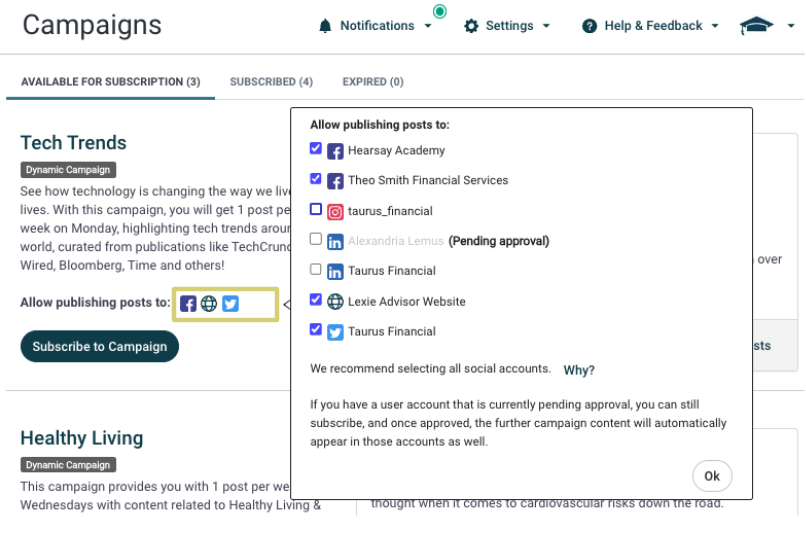 4. Click the Subscribe to Campaign button to subscribe to the campaign.

Note: If your admin has enabled website links for the campaign, a link to your website is automatically added to the end of the campaign posts and the campaign will show a Contains Website Link label on it. If you have multiple websites and subscribe to a campaign with website links, a popup asks you which website you want to include in the campaign posts.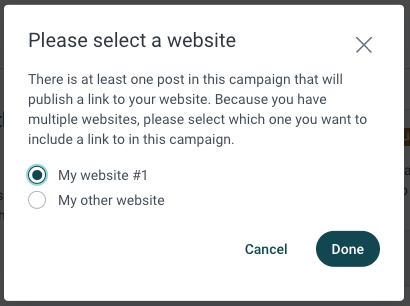 To unsubscribe from a campaign, go to the Subscribed tab and click Unsubscribe from Campaign.