Responses are part of the activity happening on your social accounts, such as likes, comments, and retweets. Any responses to the posts you publish on your connected social accounts are displayed under the Respond tab in the Published Posts section. Published Posts is where you can go to view any responses, see who has responded, interact with the people who have responded, and access individual contact's information.
Responding to Posts from Hearsay
Viewing Number of Likes on Posts/Activity
Responding to Posts from Hearsay
1. In Hearsay, select Respond > Published Posts.

2. You will see all of your published posts to your connected social accounts in this section. Use the toggles shown at the bottom of each post to view and respond to activity on each post.

Like: selecting "Like" will like your own post.

Comment: selecting "Comment" will allow you to make in-line comments. If you have comments on posts, when you click Comment, you can respond back directly from Hearsay.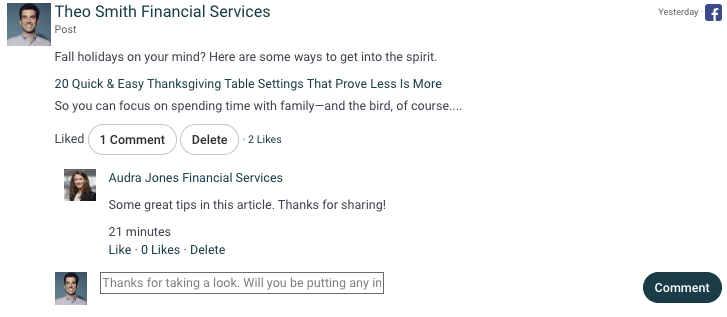 Delete: electing "Delete" will delete the post/activity from your social account.
Viewing Number of Likes on Posts/Activity
Selecting the # of Likes hyperlink will open a pop-up showing profiles/pages that have liked your published posts/activity.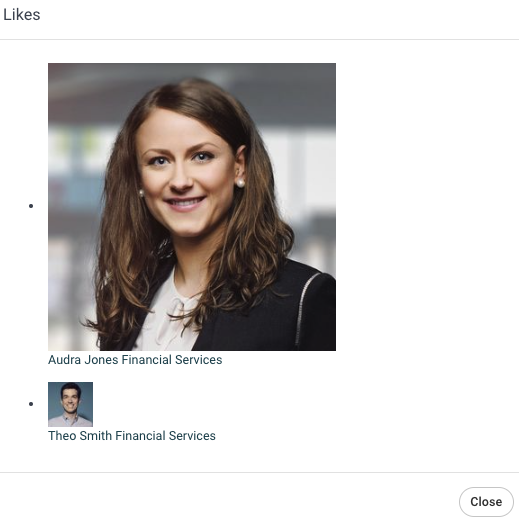 Viewing Twitter replies
Twitter has removed the ability for users to like and reply to posts via Hearsay. You can view  past replies in Hearsay by clicking Replies, or continue liking and replying to posts on Twitter's website or app.
Note: If your connections are not engaging with or interacting on your published posts, there will be no responses displayed.