Hearsay Relate users with a net-new number from Hearsay can send and receive MMS picture messages through the mobile applications on both iOS and Android. Grab your customers' attention and build relationships with visually engaging content like birthday wishes, report screenshots, and documentation photos.
Advisors are able to send MMS messages by clicking on the photo icon or the attachment icon shown here:


The camera roll on their device will be shown in the app, giving the user the option to pick a photo to send or initiate taking a photo or opening the full photo gallery on the phone.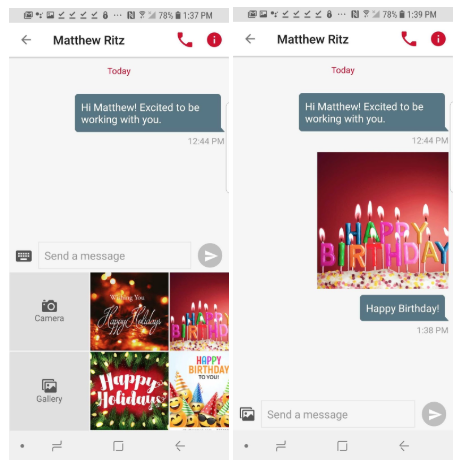 Important Notes for Users
Users can only send PNG, JPEG, and GIF formatted images that are smaller than 4.77mb in file size (standard format for iOS and Android photos).
If the photo was a "live photo", it will be converted into a PNG when it is brought into the Relate platform
The maximum amount of media that can be sent is up to 2 megabytes (MB)
If a user tries to attach an unsupported file type like a video(mp4), an error message will notify the user to try to attach the file in a different format