Scheduling Content
By default, the scheduled time is Now, which means the post will be published immediately upon selecting the Publish button, or if your organization requires approval, the post will be published immediately after the post is approved.
To change the date or time on which your post will be published to your social networks, follow the steps below.
On the Publisher tool, select Post Time under Social Accounts to open the calendar and time selection section.
Select the day you would like your post to be published on the calendar located on the left side of the Post Time. Select the arrows to the right and left of the name of the month to switch months of the year.
To change the time your post will be published, select the Time Selection drop-down arrow.
Select one of the provided times from the list, select Now to publish the post immediately, or select Custom Time to enter a desired time.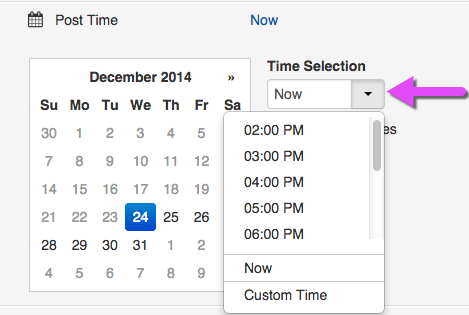 Note: Selecting a Custom Time will post to all your selected social networks at the selected time.
Selecting Suggested Times
Select the Suggested Times check box to publish your post at the times suggested for each social media account.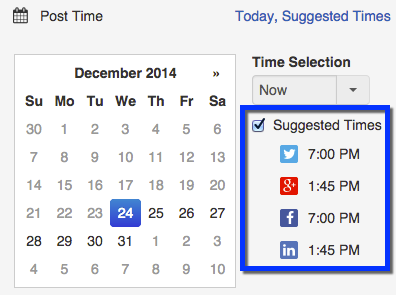 Note: If you schedule a custom time, the Publish or Request Approval button changes to Schedule. To access or edit scheduled posts, select Scheduled from the Post Library list on the left menu bar of your Posts page.
Scheduled Posts
If you have already scheduled posts to be published, which also includes any scheduled posts that are part of a campaign, there will be a blue dot under the scheduled date on the calendar.