If permitted by your organization, you can create your own original content by clicking Post Library from the left navigation bar and then choosing New Post at the right corner of your screen. This will allow you to type your own text, include a web address, or attach an image. You'll have the ability to control which social accounts receive your content and whether your post will publish instantly or be scheduled for later delivery.
Note: Based on your organization's compliance policies, you'll be able to either publish the content right away so long as no infraction keywords are detected, or you will need to click Request Approval. This will submit your original content to your compliance team for review. Once approved, your content will be shared/scheduled to your account. It can take several minutes for content to appear on the social media network after it has been published in Hearsay.
NOTE: This article contains visual media. If you are viewing this article via our Web Widget, please click the

button at the top-right corner, to the right of this Help Center article's title, to view this content.
Press play to begin viewing this video:
Best practices when including URLs in original posts:
Twitter, Facebook, and LinkedIn have their own unique auto-summarization process. The auto-summarization process represents how a social network will translate links inserted into a post and how the network will display that information in a link preview. This information includes the link's title, summary, and photo.
Example on Facebook: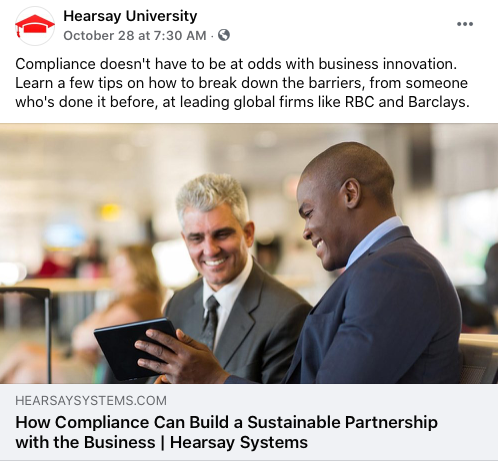 Expected behavior with LinkedIn
In Hearsay, specifically for LinkedIn, end-users and admins can change the photo, title and description of a link, while keeping the same URL link in the post by clicking the pencil icon in the top-right corner of the composer window.
Example: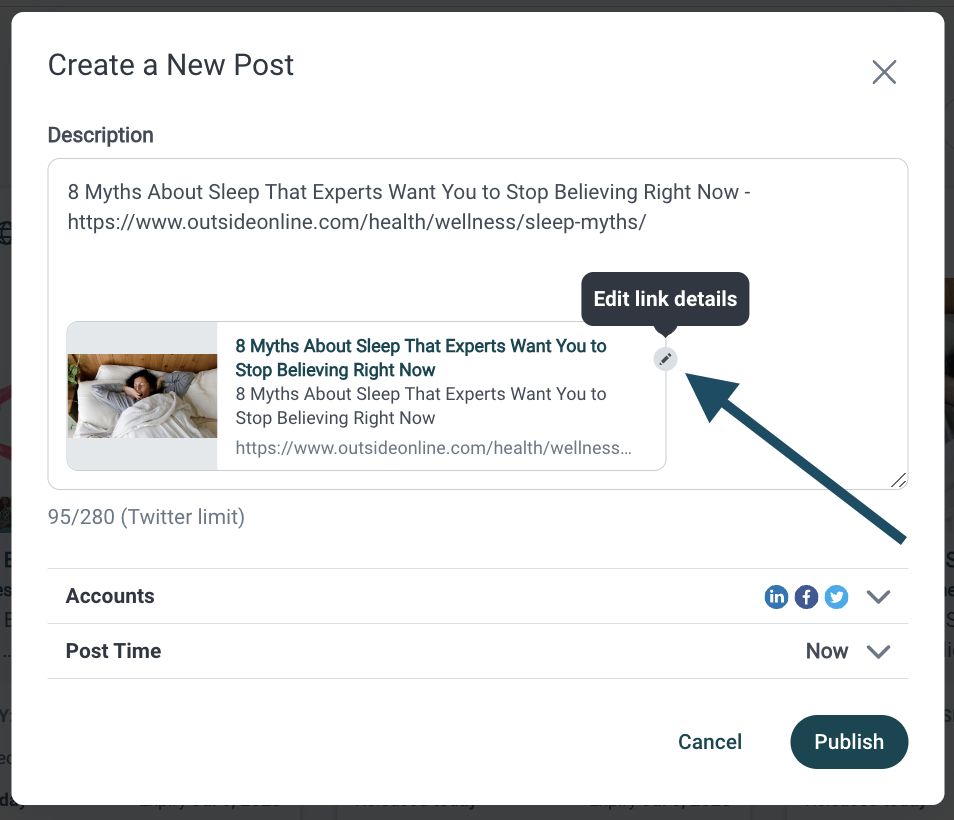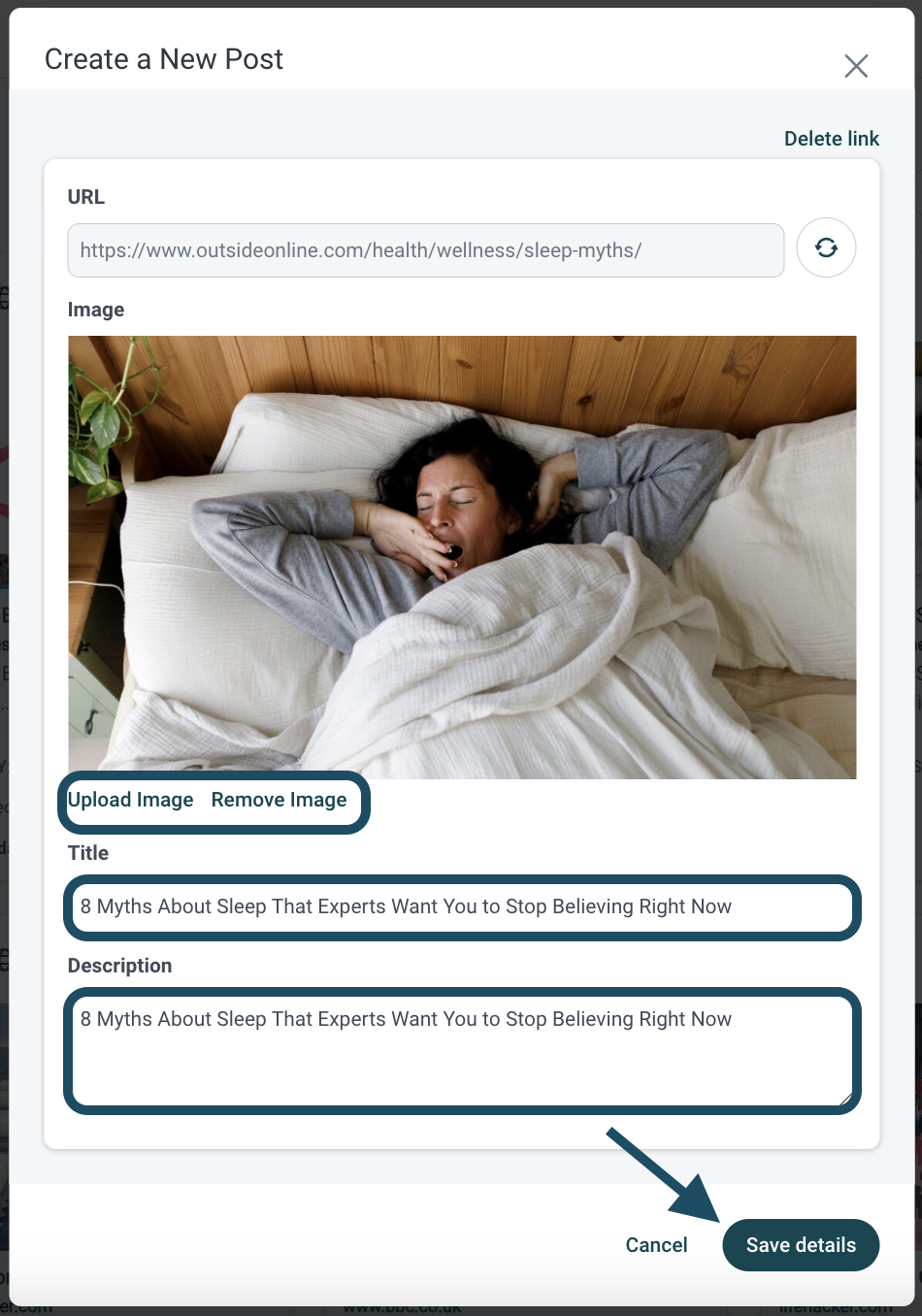 Expected behavior with Facebook and Twitter
However, when publishing posts with links on Facebook or Twitter, the auto-summarization process of these social media platforms overrides the results from Hearsay's process. This means that what appears on the link preview on Hearsay may not show on the link preview on Facebook or Twitter. The exception to this rule is for LinkedIn. Any changes you make to the link preview in Hearsay, such as adding a custom photo, will be applied to posts for LinkedIn.


Tools/Resources:
The list of tools below can help determine the preview for the different social media platforms.
Other Options:
A final option is to create your content as a photo post with a link in the text body:
Create a new post and paste in your link along with any other body text
Hover over the generated Link Summary and click the 'X' to remove it
Use the Upload Photo button to add your photo while keeping the link in the body
This will allow the selected photo to be published alongside the link, though the post will not include a link card on any network and the URL cannot be removed from the post body using this method as it can with link posts.
Additional Notes:
Photos

You can include multiple photos in a post by pressing the Add Photo button after your first image has been uploaded.

Links/URLs

When adding a link, a summary card will be generated, including a thumbnail, headline, description and domain name of the URL. This link can be removed from the body of the text and the summary card will remain.

LinkedIn specific: If you wish to include the URL within the body of the text, do not include it at the end of the post as LinkedIn will strip the URL from the post. This is expected behavior.
Facebook specific: Because Facebook does not allow for event publishing from third parties, posts that contain a Facebook event link will not successfully publish. End-users should not include Facebook event links in posts as this is not supported natively on Facebook.com

# Hashtags


Include hashtags by entering in the # symbol before publishing or scheduling a post. Examples include: #HearsaySystems #FinancialServices #Advisor #Agent

@ Mentions

Twitter & Instagram: Type the @ symbol and include the name of your connection's account.

Examples include: @HearsaySystems @TheEconomist

Due to API limitations, mentions must be performed natively when using Facebook or LinkedIn and cannot be completed within Hearsay.