Creating a Facebook Business Page
Important: When you signed up for or if you are signing up for Facebook for the first time, you were/are assigned a Personal Profile, by default. Profiles are used for individual, non-commercial use. If you use your Personal Profile for business purposes, Facebook reserves the right to shut down your account without notice; therefore, it is important to first create a Personal Profile and then create a Facebook Page for business purposes.
What is a Facebook Page?
According to Facebook, "Pages are for businesses, brands and organizations to share their stories and connect with people."
Creating a Facebook Page
If you already have a Personal Profile, follow these steps to create a Facebook Page:
1. Login to your personal Facebook account.
2. Select Create Page in the page section on the left sidebar.
NOTE: This article contains visual media. If you are viewing this article via our Web Widget, please click the

button at the top-right corner, to the right of this Help Center article's title, to view this content.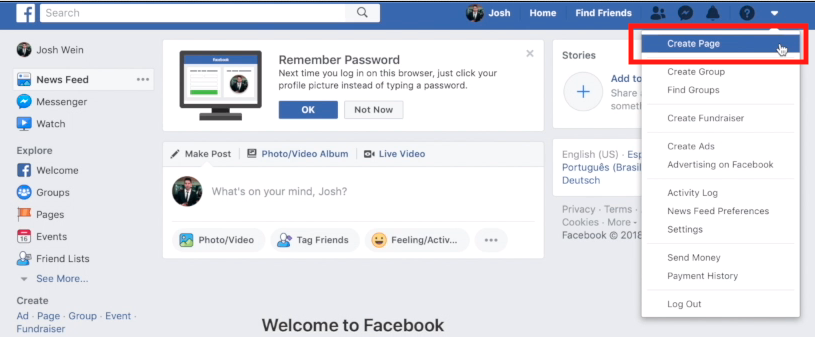 Setting Up Your Facebook Page
Facebook Pages are public pages and are indexed by Google. When setting up your Page, it's important to include relevant, keyword-rich information about your business. This will aid in your Search Engine Optimization (SEO) efforts.
1. Select Local Business or Place the top leftmost option on the Create a Page
2. Select the Choose a Category drop-down arrow.
3. Select Local Business from the drop-down menu.
4. In the provided text boxes, enter your business name, business street address, city/state, zip code, and phone number.
5. Select Get Started.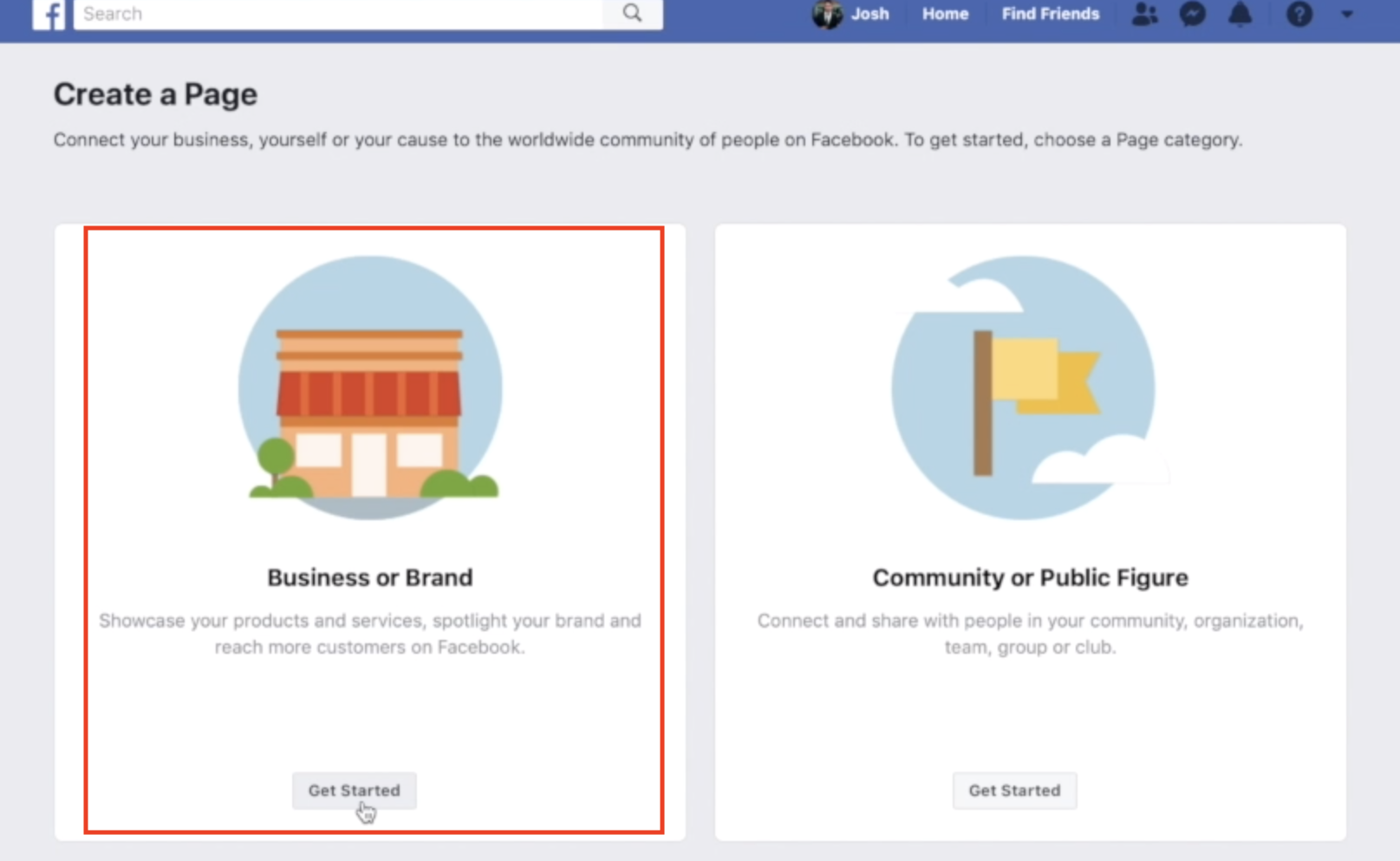 Key Elements to Include on Your Facebook Page
Facebook Pages enable you to add categories, a description, and a website to improve the ranking of your Facebook Page in search results.
1. Select the Category text box and enter terms that are familiar to your place of business, such as Financial Services, Financial Planning, Insurance Agent, etc.
2. In the Short Description text box, add some details about what your Page is about, for instance, who you are, what you specialize in, etc.
3. Be sure to add the appropriate disclaimer, in necessary.
4. Enter your Website address, if applicable.
5. Choose a unique Facebook web address (also referred to as a vanity URL). This will help people find your Page.
6. Answer Yes to the questions asked about your business.
7. Select SaveInfo.
Page Name Tips
• Name Changes: You can only change your Facebook Page name manually (one time) if it has fewer than 200 Page "likes." Once you surpass 200 Page "likes" you will have to apply to Facebook for a rebrand OR create a new page. The downside to creating a new Page is that you will have to start over with growing your network on Facebook. All of the individuals who originally liked your Page will have to "re-like" your new Page.
• Advertisements: If you choose to take advantage and incorporate Facebook Ads into your social media strategy, your Facebook Page name will be displayed in the "headline space" of the ad. The headline space is limited to 25 characters – therefore the shorter and more concise your Facebook Page name, the better.
Profile and Cover Photos
A Profile Photo is important because it helps others identify you, your business and ultimately, your brand. A profile photo is the square picture at the top of your Page's timeline. This image also appears next to all of your Page's posts and other activity on Facebook (e.g., when you respond to a comment).
PROFILE PHOTO TIP: Edit the description of your uploaded photo with relevant information about the photo. Some examples include: your name, organization, and a link to your website. This will aid in your SEO efforts.
Uploading a Profile Photo and Cover Photo
To upload a picture
1. Click either the camera icon on your profile section, or click Add a Cover Photo
2. Choose the photo from your computer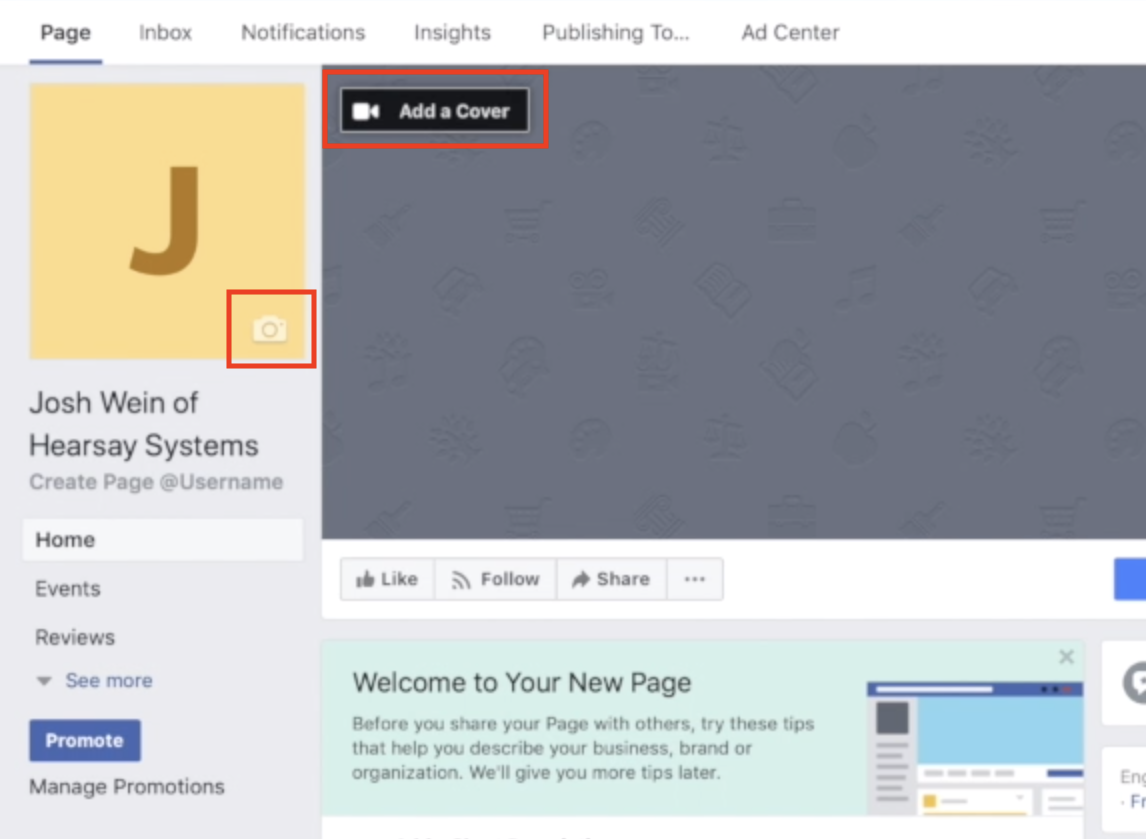 *Content subject to change based on Facebook updates and improvements.
---
Related Information