Within the Hearsay Relate mobile application, you can tap Recents at the bottom of the screen to view all of the phone calls you've made and received on your Relate number. The phone number, location of the area code, date and length of the call are presented on this screen.
All: Displays instances of every phone call tracked in your account
Missed: Displays all phone calls that your Relate number received but were not answered.
Marking Calls as Spam
If you are receiving unwanted phone calls from contacts or telemarketers on your Hearsay Relate number, you can mark the conversation as Spam to block future incoming calls.
Text messages from numbers marked as spam will be received but workspace members will not be alerted to these messages. They will be viewable only as Conversations under the Spam Messages filter.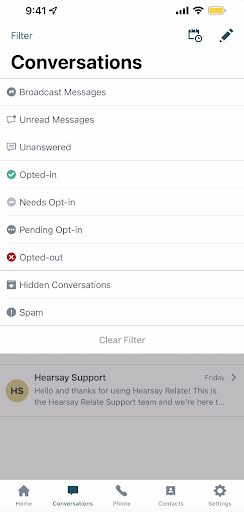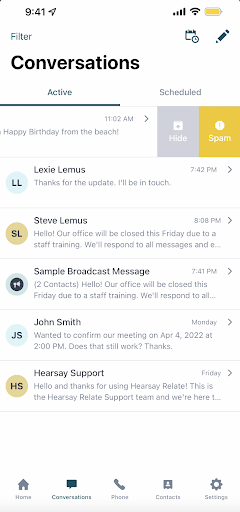 To mark a call as spam, simply swipe left on the recent or missed call, then selects "Spam."
If a call was inadvertently marked as spam, you can easily undo it by swiping left again on the call and selecting "Restore."