If your web browser supports notifications (Chrome, Firefox, Safari, Edge) you can receive notifications alerting you when a new Relate text message is received.
Notifications usually appear in the top right hand corner of the browser window. You can enable notifications during or anytime after the Relate setup process.
Example notification:

Note: Make sure that your operating system allows notifications.
macOS users:

Click on the apple logo in the top-left of the screen and then select System Settings.
Click on Notifications in the sidebar.
Scroll down the list of applications and select your web browser (Chrome, Firefox, Edge, etc.).
Make sure that the Allow Notifications option is turned on.

Windows users:

Select Start, then select Settings.
Go to System, then Notifications & actions.
Scroll down the list of applications and make sure that notifications are turned on for your web browser (Chrome, Firefox, Edge, etc.).
Enabling notifications during Relate setup
1. While opening your Relate account on Hearsay Desktop for the first time, a popup asks if you want to enable notifications for your browser. Click Enable Notifications.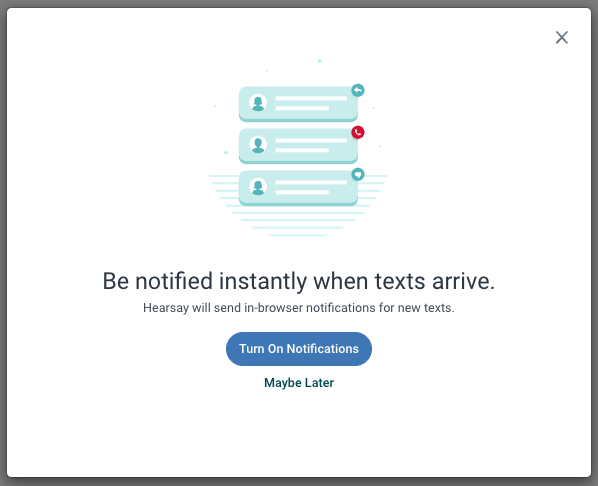 2. Your browser might ask you if you want to allow notifications. You must allow the notifications for the feature to work properly.

Enabling Relate notifications after setup
If you skipped enabling notifications when you set up your Relate account, you can still enable them.
In Relate Desktop, open the Account tab.
At the bottom of the page, click Enable Desktop Notifications.
Note: If you have already enabled notifications in Relate but aren't getting notifications, you might need to manually go to your browser's settings to allow notifications if you didn't allow them after first enabling Relate notifications in Hearsay Desktop. If this is the case, you will not see the option to enable notifications in Relate.