With the release of iOS 12 and 13, Apple added a feature that combines texts into one conversation view for a contact that has multiple numbers. If a contact of a Hearsay Relate user uses both a personal and work number to communicate with their agent or advisor and are texting to both of those numbers, then their iMessage will default to the number they used last.  
To make business conversations between you and your client distinct, you should instruct your client to create separate contact entries on their iPhone for your Relate number. For example, if they have both a work number and a personal number for you, creating separate contacts such as "Tami Jones - Work" and "Tami Jones - Personal" will prevent iMessage from combining your different text threads when they text you. 
There are two ways to instruct your clients on how to manage this:
METHOD #1: SEPARATE CONTACTS
Open your iPhone Contacts app.
Locate and tap a contact to open the contact card.
In the contact card, tap "Edit" in the top-right corner.
Tap the "-" button next to one of the associated numbers and tap "Done."
Return to the main page of the Contacts app and tap the "+" icon in the top-right corner.
Create a new contact for this number but add a distinction to the name, such as "Josh Wein - WORK."
METHOD #2: MAINTAIN ONE CONTACT
Open your iPhone Messages app.
Tap the "New Message" icon in the top-right corner to compose a new message.
Type in the name of your contact and tap the grey right arrow.
Choose the appropriate number to text. Moving forward, all text messages for this contact will be directed to that number.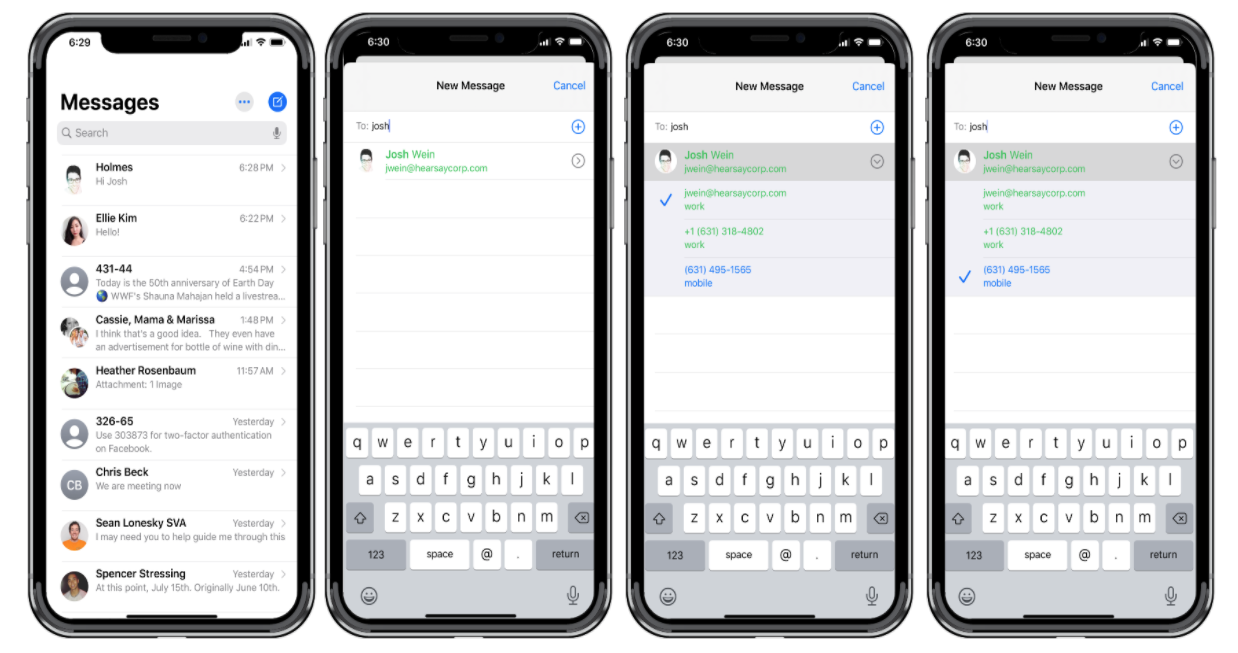 This video reviews the iOS contact merge feature.
FAQ
Q: I updated my phone and it just prompted me to merge my contacts. If I label my contacts as work and home, will the contacts merge?
A: Contacts with an exact match for first and last name will be included in the prompt. If you label your contacts with "Work" or "Personal" as the last name, as suggested in the video, then your contacts will not be merged.